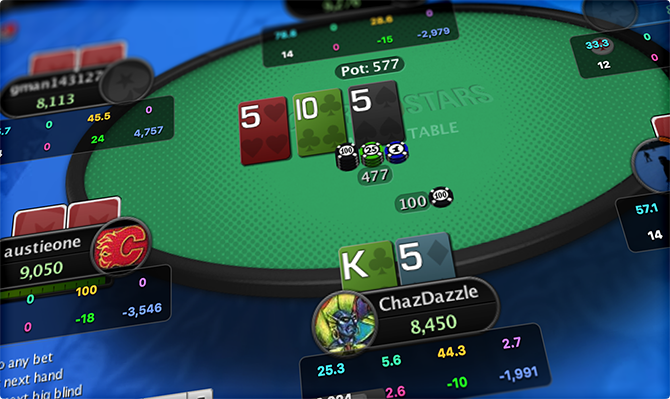 We're thrilled to announce the beta release of Pokeit HUD! With Pokeit HUD, real-time statistics detailing your opponents' betting patterns and playing style are displayed directly over their seats at the poker table. Pokeit subscribers can visit this page to download the Pokeit HUD standalone program.
We're releasing Pokeit HUD in beta with the following features:
Cash & tournament support for 19 games across 9 sites & networks: Hold'em, Omaha, Stud, and Draw variants of poker are supported making Pokeit HUD the first commercial product compatible with mixed games. The eight sites & networks include PokerStars, 888Poker, Winamax, PartyPoker, iPoker, Winning Poker, Merge Network, and Boss Media
An editable HUD profile: Select from 64 pre-built stats or create your own using the Pokeit Formula builder. A color palette is available for styling, and filters can be applied allowing you to see only the data that's relevant to you
Favorite seat picker: Right-click on a HUD box to assign it as your preferred seat for a given site and table size
OSX & Windows compatible: Installers are available for OSX version 10.6+ and Windows 7+
Regular tables only: The beta version is not compatible with fast fold tables
Right now, the beta version of Pokeit HUD requires also running the existing Pokeit app you've been using for uploading hands.
Throughout the beta program we'll be focusing on fixing bugs and adding functionality. Here's what's on our roadmap for version 1.0:
Integrating the legacy Pokeit app: Pokeit HUD beta requires the existing Pokeit app to be installed in order to sync your poker data with your online database. We will be incorporating the syncing functionality into the Pokeit HUD app in version 1.0 so only one program will be required
Multiple HUD profiles: Want to display different stats for the different games you play? In version 1.0 we'll be adding the ability to create multiple HUD profiles, which can be assigned to individual game types
Mucked cards: Mucked card display saves you the effort of going back through the hand histories to see what your opponent folded. After the hand is over, the mucked cards will be displayed on top of the table
Helpful widgets: Star hands for later without having to visit the Pokeit website. Keep track of player notes and write new ones on the fly
Loading individual visualizations on your desktop: Your favorite visualizations will be accessible directly from the Pokeit HUD tray menu
All versions of Pokeit HUD (beta and beyond) will be available to Pokeit users at no additional cost. We expect to release version 1.0 in the first quarter of 2018. Several other features stand out as must-haves to be added later in 2018:
Player detail: Curious about your history against an individual player? Simply right click on their HUD box and open up a detail window with loads of additional statistics and analysis options
Population statistics: See where a player lies along the population distribution. Determine the significance of newly-observed data given what you've seen before
Fast fold support: PokerStars Zoom poker is a priority and we'll turn our attention to other sites once that's complete
With all that said, go ahead and download Pokeit HUD beta. We're looking forward to your feedback.
Thanks,
The Pokeit Team